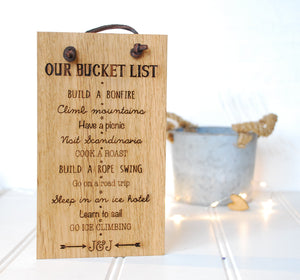 Bespoke & Oak Co.
Personalised Bucket List Sign
Regular price
$32.19
$32.19
Unit price
per
Tax included.
Shipping
calculated at checkout.
Lay down your very own, oak personalised bucket list. This can be yours and your alone, a couples or a families. This is your time to dream big! The personalised bucket list sign offers you 10 slots to list the hopes and dreams you have for the future. This may be a 12 month plan or longer… things you want to achieve as an individual, together as a couple or as a family.
Bring a personalised element of family, fun, love or friendship and add some sentimental, some crazy and some burning desires to the list. Once its written down it's harder to forget!!
A great gift for mums, dads, boyfriends, girlfriends, friends and couples - produced in house from start to finish, these are all our own work, and we are incredibly proud to be able to say "We did this!"
To personalise your bucket list simply add the 10 contents of your bucket to the 'Contents of bucket list' box. IMPORTANT: each line is limited to 25 characters. Please separate each line with a '/' symbol. e.g. Make a den/Fly to Mars/Trek to Africa/Play Monopoly etc.
Please also make sure you complete the option for the initials/name/maybe the date you set yourself to achieve this by, to go at the bottom of your bucket list. 
MADE FROM:
Solid oak clipboard mount, sanded and finished with mineral oil. Strung with a luxurious dark brown leather thong for hanging.
DIMENSIONS:
21cm x 12cm x 0.9cm
---