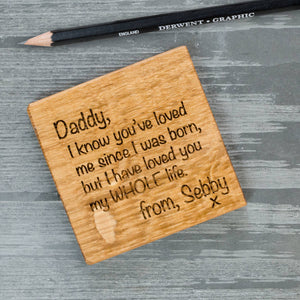 Bespoke & Oak Co.
Personalised Letter to... Coaster
Regular price
$16.10
$16.10
Unit price
per
Tax included.
Shipping
calculated at checkout.
A thoughtful and personalised coaster for Mums and Dads as well as Grandmas and Grandads who means everything to their grandchildren. What better choice could you make than to send Grandma or Grandpa, Nan or Papa, Mummy or Daddy an engraved love letter on a personalised coaster from their doting children / grandchildren.
Personalised to ensure that the gift is extra special, the letter will explain that although they have loved the children for a long time – the kids definitely "win" as they have loved them for their whole lives!!
Nothing can quite touch the heart like a declaration of love from a child. They can be reminded of this everyday as they use the coaster at breakfast, with the morning cuppa, lunch and dinner before resting with their evening beverage of choice (and coaster!)
The wooden coaster has been laser engraved, hand sanded and oiled up to perfection. All our products are created using sustainably sourced oak.
To personalise your coaster, select whether this is being sent from one child or a few. This will dictate whether your coaster reads in the singular or the plural i.e. "I" or "we" then add the name of the person this is for i.e., Mummy, Daddy or 'Grand-persons' name to the text box (this is the name that your children call your parents / step-parents) and complete the end of the letter with who this is being sent from in the "love from…." personalisation box.
MADE FROM:
Oak and natural mineral oil
LOVE ME:
Tell Mummy & Daddy, Grandma and Grandpa to wipe me clean, please don't submerge me in water
DIMENSIONS:
9.5cm by 9.5cm
---